If you're looking for a powerful and efficient way to cool a large space, a commercial air cooler may be just what you need. These high-performance cooling systems are designed to provide reliable and effective cooling for large areas, such as warehouses, factories, and commercial buildings.
What is a commercial air cooler?
A commercial air cooler is a type of cooling system that is designed to cool large spaces, such as warehouses, factories, and commercial buildings.
Unlike traditional air conditioning systems, which use refrigerants to cool the air, commercial air coolers use a natural process called evaporative cooling. This process involves drawing in warm air from the surrounding environment and passing it through a series of wet cooling pads. As the air passes through the pads, it is cooled by the evaporation of water, and then circulated back into the space.
This process is highly efficient and can provide significant energy savings compared to traditional air conditioning systems.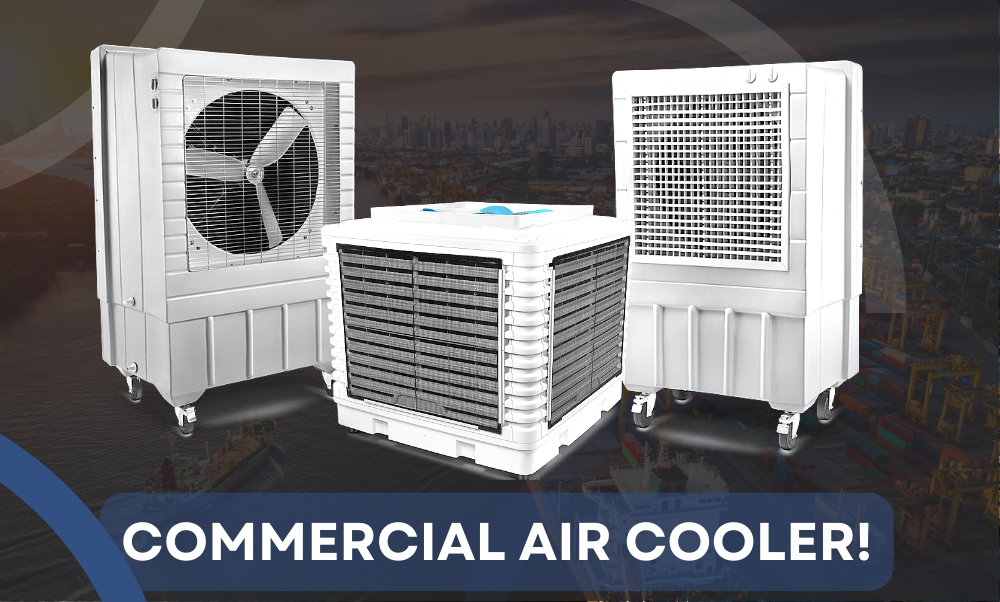 What are the benefits of using a commercial air cooler?
There are many benefits to using a commercial air cooler in a large space:
They are highly energy efficient and can provide significant cost savings compared to traditional air conditioning systems.

They also use natural processes to cool the air, which is better for the environment.

Additionally, commercial air coolers can provide better air quality by filtering out dust and other pollutants from the air.

They are also easy to maintain and require less maintenance than traditional air conditioning systems.
Finally, commercial air coolers are highly effective at cooling large spaces quickly and efficiently, providing a comfortable environment for employees and customers alike.
Features to look for in a commercial air cooler for large spaces?
When looking for a commercial air cooler for a large space, there are several features to consider.
Firstly, the size of the unit should be appropriate for the size of the space. It's important to choose a unit with a high airflow rate and large cooling capacity to ensure that the entire space is cooled effectively.

Additionally, look for a unit with adjustable fan speeds and oscillation capabilities to ensure that the cool air is distributed evenly throughout the space.

Other features to consider include a timer function, remote control, and easy-to-use controls.

Finally, consider the noise level of the unit, as a loud air cooler can be disruptive in a commercial setting.
Why To Choose Commercial Air Cooler?
Synergy Commercial Air Cooler Cooling is a unique concept of air-cooling plus ventilation. A combination not offered by any other cooling technology.
Improved Productivity

Improved Staff Morale

Improved Air Quality
Improved Revenue
Save on Electricity
Save on Initial Cost
Save on Maintenance
Payback in 4-5 months
Call For a Quote:
(+91) 9899-461-273
Think about Air cooler for cooling yourQ factory or workspace?
Coolers are Natural Humidifiers that work well in extreme heat conditions. The Evaporative cooling effect rises with a rise in temperature without a rise in power consumption.
Think about Air cooler over Air Conditioners ?
For eg., Air coolers are simpler devices compared to ACs. Coolers have comparable demonstrable less cost of maintenance and operations.
Think Capex, Opex while considering plant cooling requirements?
Coolers are CAPEX, and OPEX friendly. The cost of equipment alone can be as low as 14.2% and operation cost as low as 4% when compared with ACs for a fixed floor size.
Think about temperature control while thinking Air Coolers ?
Yes, today it's possible to have single-phase variable cooling control in air coolers like ours.
Think about Humidity and its effect on coolers ?
Coolers work best in more heat environments and operate effectively even at temperatures above 45 degrees and relative humidity of 77% max.
Think about air coolers for channelized air conditioning ?
Ductable coolers can be put to greater use for focused cooling requirements through "Effective" ducting.
Not think about a healthier choice?
Coolers are pro-natural, they abdicate the ill effects of dehydration which can otherwise cause workplace health disorders.