In today's world, air conditioners and air coolers have become a necessity, especially in hot and humid regions. The Jumbo Air Coolers by Synergy is an excellent product that provides efficient cooling at an affordable price. 
Synergy Jumbo large space Air Coolers are the best in the world. These robust strong body coolers are ideal for central cooling using ducts across applications. The range uses a centrifugal fan, specially designed cooling pads, and unique design features coming from decades of engineering knowledge. The range offers excellent cooling and air delivery.
Reduction of temperature & fresh air in the workplace creates:
Healthy Environment

Improved staff morale

Increased productivity & accuracy
Less Absenteeism.
Features & Benefita of Jumbo Air Coolers:
Large Cooling Area

Air Cooler jumbo by Synergy covers a large cooling area. This makes it ideal for large living spaces, offices, and other commercial establishments.
Energy Efficient

The Jumbo Air Coolers are highly energy efficient. With the Jumbo Air Coolers, you can enjoy cool and comfortable air without worrying about high energy bills.
Eco-Friendly

The Jumbo Air Coolers use evaporative cooling technology that is eco-friendly and safe for the environment.
Easy To Use & Maintain

Synergy Jumbo Air Coolers are incredibly easy to use and maintain. The cooler's water tank is also easy to refill, and its removable filter makes it easy to clean and maintain.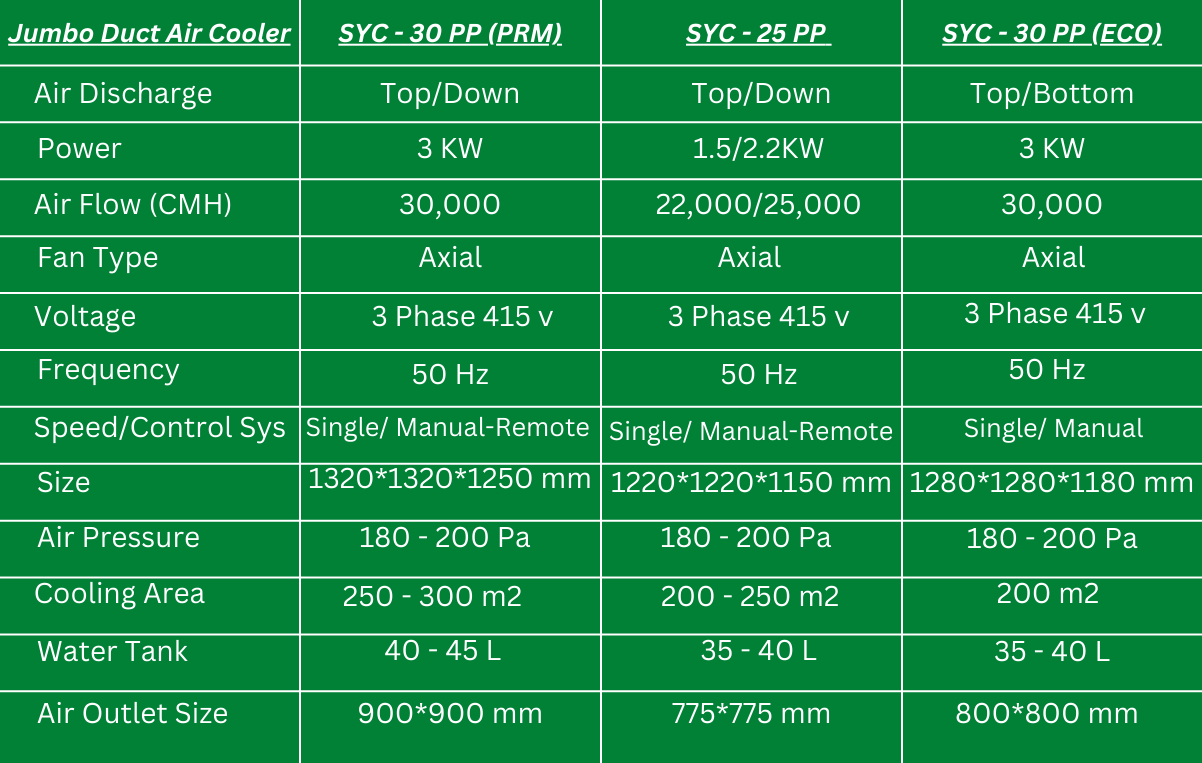 How to Choose the Right Jumbo Air Coolers
When choosing an air cooler, there are a few factors you should consider. These include:
Cooling Area: Choose an air cooler that is suitable for the size of your room or living space.
Energy Efficiency: Look for air coolers that are energy efficient and consume less electricity.
Cooling Technology: Choose air coolers that use evaporative cooling technology, as they are eco-friendly and safe for the environment.
Maintenance: Choose air coolers that are easy to use and maintain.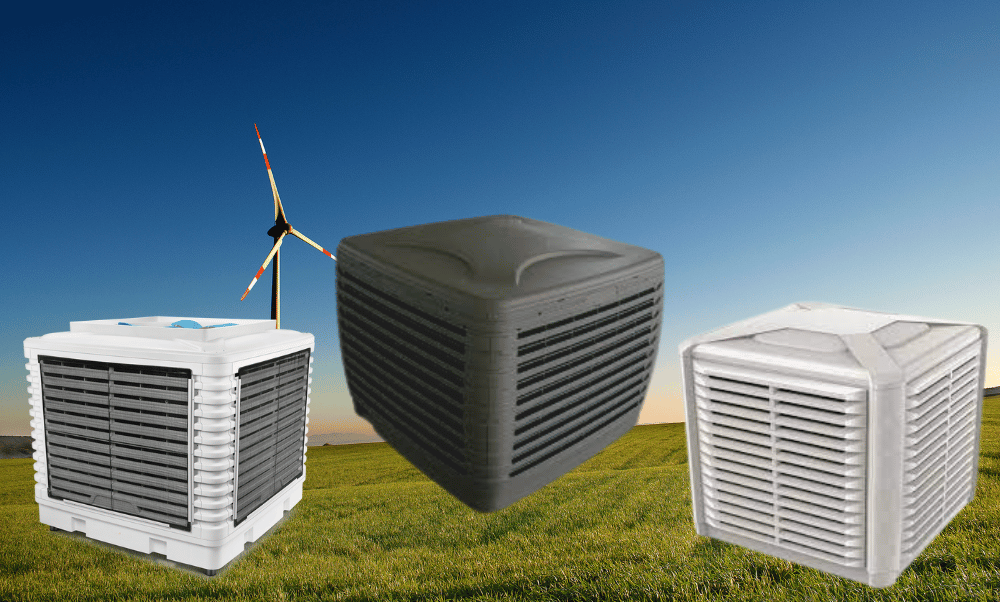 Call For a Quote:
(+91) 9899-461-273
Think about Air cooler for cooling your factory or workspace?
Coolers are Natural Humidifiers that work well in extreme heat conditions. The Evaporative cooling effect rises with a rise in temperature without a rise in power consumption.
Think about Air cooler over Air Conditioners ?
For eg., Air coolers are simpler devices compared to ACs. Coolers have comparable demonstrable less cost of maintenance and operations.
Think Capex, Opex while considering plant cooling requirements?
Coolers are CAPEX, and OPEX friendly. The cost of equipment alone can be as low as 14.2% and operation cost as low as 4% when compared with ACs for a fixed floor size.
Think about temperature control while thinking Air Coolers ?
Yes, today it's possible to have single-phase variable cooling control in air coolers like ours.
Think about Humidity and its effect on coolers ?
Coolers work best in more heat environments and operate effectively even at temperatures above 45 degrees and relative humidity of 77% max.
Think about air coolers for channelized air conditioning ?
Ductable coolers can be put to greater use for focused cooling requirements through "Effective" ducting.
Not think about a healthier choice?
Coolers are pro-natural, they abdicate the ill effects of dehydration which can otherwise cause workplace health disorders.