India's best-performing duct coolers. Specifically designed for the cooling of large industrial and commercial spaces.
Synergy Jumbo Duct Air Coolers are the best in the world. These robust strong body coolers are ideal for central cooling using ducts across applications. The range uses a centrifugal fan, specially designed cooling pads, and unique design features coming from decades of engineering knowledge. The range offers excellent cooling and air delivery.
Reduction of temperature & fresh air in the workplace creates a healthy environment and benefits like improved staff morale, increased productivity & accuracy, and less absenteeism.
Features of Jumbo Duct Air Coolers:
India's Best Performing Evaporative Air Coolers with the highest cooling efficiency.
Most robust, rustproof

 

metal body with heavy-duty pre-coated GSS.

Proudly made in India at our world-class manufacturing plant.
Branded Spares are used for their manufacturing for easy repair or replacement.
Benefits of Jumbo Duct Air Coolers:
An environment-friendly

 air cooling solution.

Specifically designed for the cooling of large industrial and commercial spaces.
Wide Range of models available to cool large areas economically Works well in harsh outdoor conditions, installation or usage.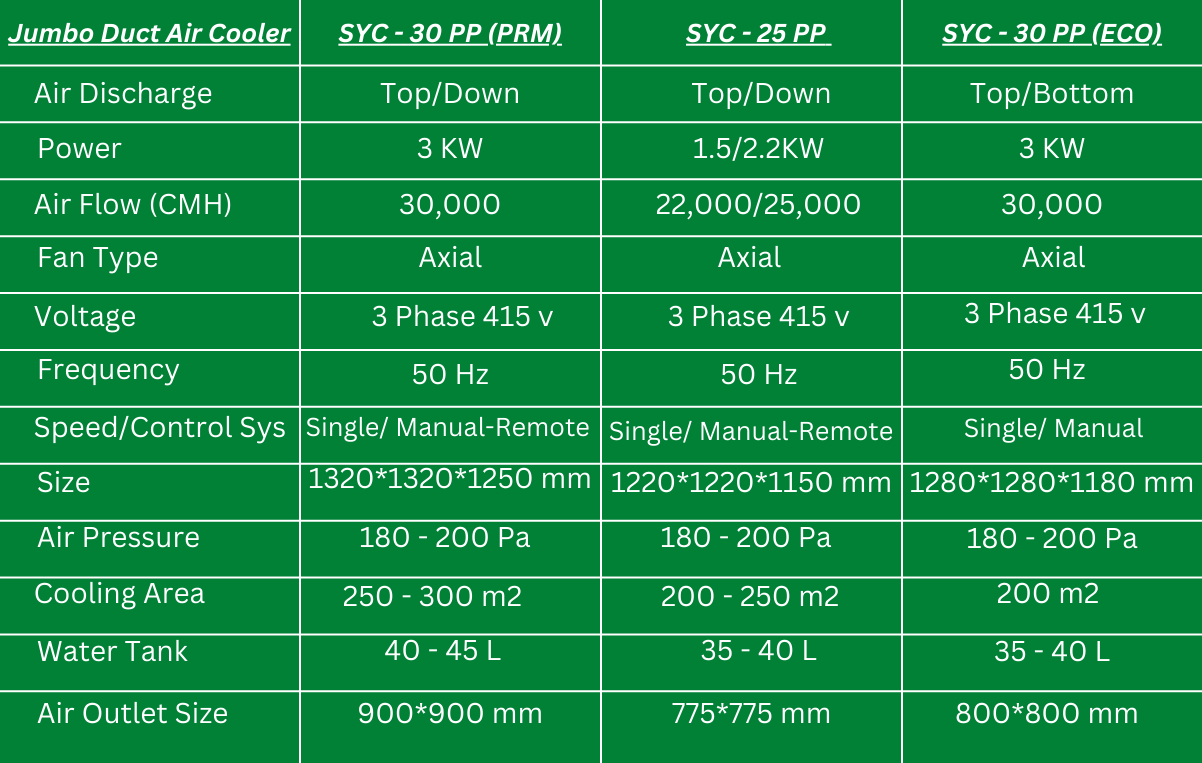 Synergy Air Cooling is a unique concept of
air-cooling plus ventilation. A combination not offered
by any other cooling technology.
Improved Productivity

Improved Staff Morale

Improved Air Quality
Improved Revenue
Save on Electricity
Save on Initial Cost
Save on Maintenance
Payback in 4-5 months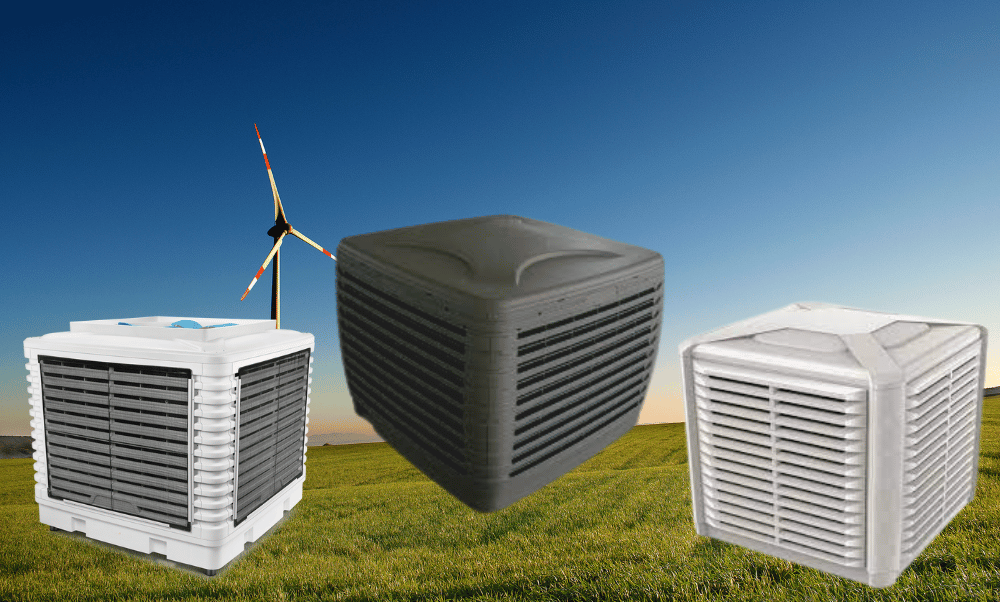 Call For a Quote:
(+91) 9899-461-273
Think about Air cooler for cooling yourQ factory or workspace?
Coolers are Natural Humidifiers that work well in extreme heat conditions. The Evaporative cooling effect rises with a rise in temperature without a rise in power consumption.
Think about Air cooler over Air Conditioners ?
For eg., Air coolers are simpler devices compared to ACs. Coolers have comparable demonstrable less cost of maintenance and operations.
Think Capex, Opex while considering plant cooling requirements?
Coolers are CAPEX, and OPEX friendly. The cost of equipment alone can be as low as 14.2% and operation cost as low as 4% when compared with ACs for a fixed floor size.
Think about temperature control while thinking Air Coolers ?
Yes, today it's possible to have single-phase variable cooling control in air coolers like ours.
Think about Humidity and its effect on coolers ?
Coolers work best in more heat environments and operate effectively even at temperatures above 45 degrees and relative humidity of 77% max.
Think about air coolers for channelized air conditioning ?
Ductable coolers can be put to greater use for focused cooling requirements through "Effective" ducting.
Not think about a healthier choice?
Coolers are pro-natural, they abdicate the ill effects of dehydration which can otherwise cause workplace health disorders.